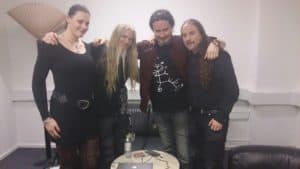 For vores anmelder Roy Frandix var det en mindeværdig oplevelse af flere grunde, da Nightwish den 16.11.2015 gav koncert i Danmark – mere præcist Falkoner Salen i København.
Vores anmelder var blandt gamle venner. Dels lægger Roy ikke skjul på sin glæde for Nightwish, og dels fik han en chance for atter at interviewe bassist og sanger Marco Hietala, hvilket han også gjorde for 3½ år siden, da Nightwish sidst spillede i… Falkoner Salen. Hvordan gensynet forløb, kan du læse i anmeldelsen og interviewet her. Interviewet blev afholdt på engelsk og vi har derfor valgt ikke at oversætte.
Roy:
Welcome back to Denmark. It has been 3 ½ years since you have been here and at the same venue Falconer Salen. You have been on tour for seven months now. How has the tour been so far?
Marco:
We have played quite a few places already. The band has been doing quite well with a lot of good shows and many of them sold out. It also seems as if the band has gotten tighter and better as we have played more and more shows.
Roy:
Last time we spoke we talked about the intensive touring you have had with "Dark Passion Play" and that it was tough on everybody and especially for Anette Olzon, as she was not used to do so much touring, and you as a band had to present a new singer. In terms of that you are back to square one on this tour and I guess that Floor Jansen is like Anette when it comes to touring? Have you learned anything from that and what are you doing different this time around?
Marco:
Well in terms of that your right, but Floor has done a lot of touring before joining Nightwish (15 years of touring with other bands), so she is not as inexperienced as Annette was and she is very confident in her own performances, which makes it a lot easier for her and the band. And she has been in the band for 2 ½ years already which many people tend forget to take into consideration when mentioning her as a "new" band member.
Roy:
After seven months of touring is there any new that you have brought into the set list and have you made any changes to the show etc.?
Marco:
When we played in Latin America and Northern America we could not take our full production and show with us. When we play in Europe we can put on a bigger show with a full production, which is the main difference, but the scene here in Falconer Salen is quite small though. We do also change a bit in the set list but not that much. We do play a lot of the songs from our new album. We are very proud of the new album.
Roy:
Are you playing the whole 24 minutes of "The Greatest Show on Earth"?
Marco:
Maybe not the whole 24 minutes but we do play most of it.
Roy:
Has the terror attacks in Paris last Friday changed anything for the show tonight?
Marco:
We have thought about it and we think that terrorist attacks and all that are all about spreading fear and we do not think that we should stop playing because of that.
Roy:
Your new album "Endless Forms Most Beautiful" sounds pretty much like a typical Nightwish album. What are your thoughts of the album now that it has been out for 8 months?
Marco:
I still like the album and I think that it is a good album and one of our best.  I think that it is a more organic band album from what we have done before. Of course we still have all the choirs and orchestras but in terms of that we first recorded it in the rehearsing room and after that in the studio. I think that it gets a lot more live feeling to it.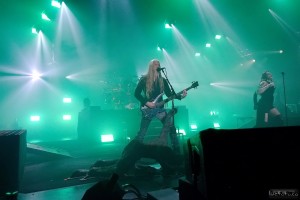 Roy:
One thing that is very different is that your vocals are pretty much absent. Is that just a coincident?
Marco:
That might be the impression that you get, but I do actually think that I sing even more on this album. There are quite a lot of places on the songs where Floor and I support each other. I do know what you mean. I do not have a lot of solo lead singing parts.
Roy:
Last time we also spoke of your upcoming movie "Imaginarium" and that you used quite a lot of money on that $4,275,000 (estimated) (IMDB.com). How did it go with that and did you recover your money?
Marco:
It was a very expensive experience and we did lose a lot of money on that, but we did not have to sell our houses and cars etc. But I am still glad that we did it, because it was a great opportunity and you do have to try things out in life. But we will probably not be doing it again. If you had not done it then you would have regretted it. It was so totally different from what any one of us had done before. The movie itself is probably not Oscar material, but I think that it is still pretty good as it came out. It is very different.
Roy:
You are going to be on the new AVANTASISA album »Ghostlights« – out on January, 29th 2016. Tell me about how you got involved with that?  
Marco:
I met Tobias Sammet a few years ago at the Metal Hammer Awards show and we talked and exchanged e-mails forth and back and suddenly the opportunity came up and I jumped right in. I do have some criteria's before I do such things as the music should have a certain standard.
Roy:
You have also recently introduced an Evolution Series by Nightwish jewelry line. How did that come up?
Marco:
It was actually the distributor of our band Sony Music who contacted the jewelry company and we thought that it might be a good idea. Since we are one of Finland's most selling bands and that the jewelry company is from Finland, they probably thought that it might be a good idea to combine the two things.
Roy:
I guess it was not the first thing you thought of achieving when forming the band back in the day, to have your own jewelry line?
Marco:
No, I think it was more because of the girls and the booze.
Som Roy Frandix beskriver i sin anmeldelse, var det et lettere udmattet band han mødte før deres koncert, derfor så meget desto større grund til at sige tak til Marco Hietala fordi han havde et øjeblik til at svare på spørgsmålene. Hæng på og se, hvad Roy vil spørge ham om, når der igen er gået 3 år!
Note: The new jewelry collection accompanies the theme of the rich diversity of life – as on Nightwish's album Endless Forms Most Beautiful. It is something that the band's founder, musician Tuomas Holopainen, emphasizes in the collaboration.
Holopainen:
"From the start, it was important for the band that when we start to create a jewelry collection it should in some way reflect the theme of our new album. The message on the album is associated with the endless variety of all living things on our planet: we are one, made out of the same DNA, of the same matter. It's an extremely beautiful and humbling fact, which we wish to bring out in the album. The same theme is also present in the new jewelry collection."