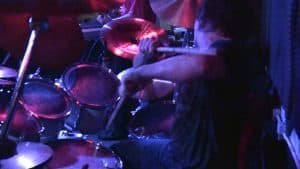 Siden albummet "Control and Resistance" fra 1989, ventede tech fans længe på et nyt udspil fra Watchtower. Der blev i 2001 annonceret at de var i gang med et album som, oplagt for netop dette band, hed "Mathematics". Albummet blev dog gang på gang forsinket, og det endte med at nogle af numrene blev udgivet lidt efter lidt som digitalfiler. Den 7. oktober 2016 udkom EP´en "Concepts of Math. Book One", hvor vi fik 5 numre fra "Mathematics", og med samme besætning som på sidste udspil; Alan Tecchio (vokal), Ron Jarzombek (guitar), Doug Keyser (bas) og Rick Colaluca på trommer. Der var her gået 26 år siden "Control and Resistance", og nu kunne Watchtower så endeligt byde på en studieudgivelse.
Det er altid interessant at høre hvordan musikerne arbejder, og vi har fået fat i trommeslageren Rick Colaluca, som her fortæller om gamle dage og nutiden i Watchtower.
Intro
Congratulations to you and the rest of Watchtower with the long expected release of "Mathematics"-material. Here on RockZeit we were thrilled to review the EP "Concepts of Math. Book One". At the editorial staff, we are very interested in progressive rock and metal. Many magazines are mostly doing interview with the guitar player or the singer of a band, but we think that the drumset has almost orchestral possibilities, and we are very interested in the musical thinking of the drummers in the bands.
Background
Martin: When did you start playing drums, and which drum style did you play before you played in Watchtower?
Rick: I started playing drums kind of by accident, in the 6th grade. Someone from the school band was coming around to all of the classes recruiting people to join the band, and a friend and I decided that it was an easy way to get out of class for a while. So we left class to go hear the speech from the band recruiter, and when they came around to ask everyone what they wanted to play, I didn't really know the names of the instruments, so I blurted out "drums". That's how it started. From there, I played in school band for a few years, then finally took up the drum kit in high school, just playing covers at first like most people do.
Martin: Which bands/drummers did inspire you from the start?
Rick: It was most certainly Rush and Neil Peart that got me into drumming seriously. The first time I heard "Cygnus X-1" and "Xanadu", I was hooked. Prior to that, I was never really interested in playing drums all that much. After that I started getting into other progressive players like Bill Bruford, Chad Wackerman, Terry Bozzio, Gary Husband and later, guys like Dave Weckl and Dennis Chambers. There are so many amazing players it'd be impossible to list them all, but these were some of the guys that really impacted me early on.
Martin: The drum material of Watchtower witness a drummer that is practical without skill limits. Is the drumming and teaching your main profession?
Rick: After Tower fell apart in the mid-nineties, I never pursued music as a full-time profession. I've done some teaching over the years, but as lifestyle, music never really took hold. I still play frequently, but it's not a source of income for me. I just do it for fun.
Methods
Ron's crazy stuff, often there is no other way but to write it out just to have a clue of what is going on.
Martin: How do you usually come up with a rhythm for a riff?
Rick: Generally I'll just listen to what is going on, and start playing along until I play something that I like. What I usually do is to set up a basic structure, and improvise around it until I come up with stuff I like for all of the fills and transitions. For many songs I never was able to fill in all the holes with permanent parts, so I just play it how I feel it each time.
Martin:..and the other way around; are riffs in Watchtower sometimes created on the basis of rhythms that you come up with?
Rick: Sometimes, but not that often. The Eldritch is one notable exception.
Martin: Do you ever use notation when you come up with some rhythms, or do you just remember them/record them?
Rick: Sometimes I'll write out complex things just to get them straight in my head, but once they are memorized I don't continue using notation. With Ron's crazy stuff, often there is no other way but to write it out just to have a clue of what is going on.
Martin: It seems that you have thematic thinking in the drum patterns. For example in the material in the track "Life Cycles" on "Control and Resistance", you repeat some patterns during the song that almost sound like "drum riffs", and especially the last drum outburst in the end of the track, seems phrased like a long "drum melody". Can you describe your way of thinking when you compose rhythms for a track like that?
Rick: I just play. Most of that stuff on Life Cycles was improvised on the album, there is no real formula or anything. Just play and hopefully I like what comes out.
Martin: I think in progressive metal, not even today, we hear complex and organic drum parts like the material in for example "The Fall of Reason" and "Life Cycles". Do you ever count beats or measures when you play with Watchtower, or do you have a sense of the complex structures that enables you to "just play"?
Rick: I have to understand them at first, so yes, there is counting until the point where I can play by feel. Once I can feel it, that's when I start really playing around with the parts and having fun with it, and playing off of the music instead of just along with it.
Martin: On your facebook profile you demonstrate a one take of "The Size of Matter". I'm very curious if you did any one take videos on "Control and Resistance"?
Rick: I haven't done anything for "Control", as I don't have those recordings without drums. I will probably do a video for "Technology Inaction" or perhaps something else from "Math" at some point, but I just haven't gotten around to it yet.
Style
Martin: The drum parts of "Control and Resistance" is very organic and flowing in a jazzy way. The drum parts on "Concepts of Math: Book One" seems more mechanically precise with more heavy metal punch, and the rhythms seems to have less drum improvisation in it. Has it been discussed in the band, that the drum track should be different because of the math theme, or natural development of the band during time?
Rick: The big difference is the way the songs were written, rehearsed and recorded. The stuff on "Control" had been played live and in rehearsal over many years before being recorded, so we all knew the songs well and could play them effortlessly. Also, they were recorded using more of a traditional method in a studio, with a live engineer. They were written and revised many times over the years, when we were rehearsing and gigging regularly. With "Math", there was never much rehearsal, mostly just sending parts back and forth via .wav files and putting the songs together using more of a mechanical method. Some of the drum parts were recorded in a studio, but much of it was recorded in my practice shed on my Mac (no live band, just me, the computer and the backing track), then assembled by Ron, who also did some sound replacement and other stuff to make it sound more clear and professional. Different processes altogether, that's why they sound so different. Also, since these songs weren't fleshed out through years of rehearsing and playing live, they aren't really "seasoned" like the stuff on "Control".
Martin: The electric drum pads that you used on the two first albums are discarded on "Book One". Is there any reason why?
Rick: Mostly because I haven't played them in a really long time and I don't buy much gear these days. Back in the "Control" days, music dominated my life and so I had more time and motivation to mess around with gear and configurations. I've actually been playing the exact same setup since the mid-nineties when I purchased my Yamaha Recording Customs that I still use today.
Martin: Where did you get the idea for the electric pads in the old days?
Rick: Back then, it was not long after the Cars came out and used the original syndrum electric drum. I thought that was so cool. I bought the first thing that Tama came out with, the "Techstar", and used those for many years in tandem with my acoustic kit. Then, a couple years later I bought a full Yamaha electric kit with the bass drums and all, and toured with that for a while, using only acoustic cymbals and snare.
Songwriting
Martin: On the "Book One", for the first time in the history of Watchtower, you are credited as songwriter…on all the 5 tracks. Can you tell about your involvement in the songwriting of Watchtower? Do you contribute with ideas for the tone material?
Rick: I never really did much writing, although back in the early days most of the composition was done in practices with all of us there, so I guess that counts for something. Those guys never thought that drum parts qualified as "composition" and I didn't argue. I guess they just decided to throw me a bone, so to speak, on "Math". I really don't care one way or the other, it's not like we're making any money off of this, LOL.
…the last questions…
Martin: Do you have some comments about the progressive metal scene today?
Rick: I don't really listen to much of what is classified as progressive metal, never did. So I'd be the last person to have an informed opinion.
Martin: Can you come up with 3 favorite albums in the progressive rock/metal?
Rick: Probably Rush "A Farewell to Kings", Yes "90125", and UK "Danger Money". Although none are metal, they are all progressive and I love them all.
Martin: Do have 3 favorite drummers?
Rick: Hard to say, but Dave Weckl, Chad Wackerman, and Buddy Rich are all up there in the top tier for me.
Martin: Thanks for doing this interview with RockZeit. We really appreciate it, and we are looking forward to release of the next Math Book from Watchtower.
Rick: Thank you!…Rick