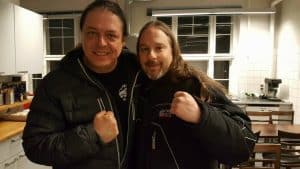 Onsdag den 8.2.2017 spillede Hammerfall i Amager Bio med support af Gloryhammer og Lancer. RockZeit var naturligvis til stede for at anmelde koncerten, som kan læses her, og inden koncerten fik vi os en snak med guitaristen Pontus Norgren fra Hammerfall.
Rockzeit: To me it seemed that you took a step towards more traditional heavy metal with your album "Infected" from 2011, especially with songs like "Patient Zero", "One More Time" and "I Refuse" and overall I was very pleased with the direction you made with that album. With the follow up album "(r)Evolution" from 2014 it seemed to me that you stepped back to the traditional and, unfortunately, standard sound of Hammerfall and I have always wondered why and thought it might be because "Infected" maybe did not get the praise as you hoped for?
Pontus: I must say that the period before we made the album "Infected" was a little bit infected, because we changed our management which did not work well and we tried to seek something that we did not achieve. I think it was a killer album, but I think that we were kind of lost as a band, because we were working with so many people, management and different crews etc. On this album we decided that it should be produced by James Andrew Michael (the lead singer of the rock band Sixx:A.M.). I think he did a great job, but I think that our fans got a little bit of a shock, because it production wise sounded so different. After we did our last show at Wacken on the "Infected" tour we sat down in our dressing room and decided that we needed to take a break and to get a perspective on what was going on and everyone was like "Yes, we should". When we had the break we were cleaning up in the Hammerfall camp and took away all the stuff that used to create at big disturbance for the band and kept everything we liked around the Hammerfall camp, and we changed our management and decided to work with Fredrik Nordström (guitar player of heavy metal band Dream Evil) again as our mix producer. I think that we – with the album r(E)volution – got a new and fresh start and got the energy back into the band.
Rockzeit: Last year you released your 10th album "Built To Last" which to me is best described as a very intense and focused album where I think the 10 new songs combined makes an altogether great album – an album where I think Hammerfall is back in form. What is your perspective on that?
Pontus: I think that doing our break and (r)Evolution we found the recipe to make this really fun again and got rid of the things that confuses us. A lot of bands would have split up in our situation but we thought to ourselves that we began doing this because it was funny and we wanted that joy back into the band.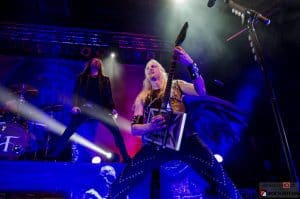 Rockzeit: When listening to the song "Twilight Princess" I am still trying to figure out what it is actually about. Is it about a man who cannot stop himself from doing bad things, even though he wants to, and where did the title of the song come from?
Pontus: Joacim wrote the song, so I cannot answer for him, but in recent interviews he said that it was more or less what you said. I think the song is written for you to imagine something and to not quite have the reel answer. I cannot tell you what it is about, but I think he would say the same. I think he said that if you have that question then you are on the right path.
Rockzeit: And the performance from Joacim Cans on this album and especially on "Twilight Princess" I would consider as a "career-best performance". Would you agree?
Pontus: I think it is funny that you ask this question, because I think that Joacim while doing (r)Evolution he was also doing some musicals in Sweden and he found the fun of singing again and I think that shines through.
Rockzeit: Which song is your own favourite one and why?
Pontus: I must say that one of my favourites is the song "Dethrone And Defy". This is because of the simplicity but also because of the twin guitar play which we got into the band since I joined (in 2008) and it just sounds better than ever.
Rockzeit: You are having 6 weeks off from touring after tonight's show before heading to Hammerfest in the UK on March 24th. You are also going on a 2 week tour in the US in May. How does the metal community in the US take on Hammerfall and has it improved over the years?
Pontus: Well it is almost 6 years since we were there last time on our "Infected" tour. When we did that one, we went on our own with local supports. It was a successful tour, but it was during our infected period with the wrong people around us and we lost a lot of money and it was no fun and we thought "Were did all the money go?". We do sell a lot of tickets but it all depends on which territory you're in and you really never know what to expect. I think that down in Texas they are apparently only interested in oil and computers (laughing). Last time we did a lot of shows in House of Blues clubs but the size of the crowds is so different from place to place. This time we are doing a double headliner tour with Delain.
Rockzeit: Where do you see Hammerfall go from here? You have made so many great songs over the years that you probably could live off doing a "best of" tour for many years ahead?
Pontus: I do not think that we will release a new album every second year as we as a band is in no rush and we take our time to do the things that we want to do. Maybe we will look at writing new and different lyrics and guitar riffs and maybe bring in a new producer. Basically we just want to write great songs.