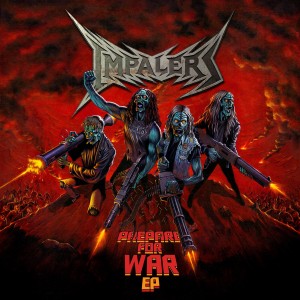 RockZeit har været så heldige at få et interview med Impalers frontmand Søren Crawack. Vi spurgte om vilkårene som metalmusiker i DK, ambitioner, inspirationskilder, hvordan Impalers bevarer gnisten, samt hvordan de skaber deres teutoner sound. Og så lige et par ord om tragedien i Paris. 
(interviewet foregik på engelsk)
RockZeit:
Thank you for taking time to answer these questions!
It's been a little while since you released "Prepare For War" and "God From The Machine", but they were well recieved, and you've been very active since, on the road – and the rumors has it that you 'are already working on new material.
Can you tell us what drives you? What motivates your songwriting? Is it your interest in daily current events, politics. war, mankind, society or does it begin with a song idea/melody in your head?
Søren Crawack:
Often it's a combination of both lyrical and musical ideas. I'll have something I really, really want to write a song about, and that motivates me more to write a killer riff than simply saying "well, I guess I have to write some more riffs".
RZ:
You seem to be very productive and ambitious, these days, have you layed down some strategy and plan for conquering the metal world? What is Impalers goal?
SC:
A couple of times each year we outline a rough plan. A lot of it are stuff that depend on a lot of pieces falling into place so it's not everything we actually accomplish, but we try to plan as much of it as possible. We don't have any grand illusions of metal glory, but we do give the band our absolute ALL.
RZ:
You are often being compared to your peers, of course, does it annoy you or please you?
SC:
Honestly, I don't think we are. I don't think we sound like any of our peers. We often get compared to bands like Kreator, and Sodom, but those I totally get. They have been our main influences from the very beginning, and I don't have any problem with that whatsoever.
RZ:
We as music reviewers often tend to compare bands, and some of those names that pops up again and again, while listening to "God From The Machine" is, off course, Kreator, Sodom, and Metallica.
I personally cannot help but regard "Beyond Trinity" as a cousin to Metallica's "The Day That Never Comes", because of the resemblance in the vers, the songs progressions and structure and not the least, because of the overall sound. Am I way off or is it something you did more or less on purpose?
SC:
We didn't consciously try to make it sound like a certain song. It was more of a wish to try and do a more ballad-ish type of song, that the bands we love so much go out and do. Bands like Judas Priest, Iron Maiden, Metallica, Testament, Megadeth, Death Angel, etc. They all have these awesome ballads. So "Beyond Trinity" is simply our attempt at that kind of song. And it won't be the last one either.
RZ:
Speaking of "Beyond Trinity"; singing an anthem-like metal-ballad is a hard task and the vocal has to be clear and sharp, but delivered without it all going too cheesy. How did you prepare yourself for the job?
SC:
To be honest, I kinda didn't. The only thing about the song I rehearsed was singing and playing guitar simultaneously, like I do with all our songs. I do think the recorded vocals sound a bit too "pure" or whatever, but I guess that's just the way my voice sounds in that register.
RZ:
Your lyrics are often about mankinds bad decision-making, war, society conflicts and crime, frustration, aggression and hate. Are your songs a therapeutic way of dealing with all the bad stuff going on in the world, terror, the conflicts between the western world and the Middle east?
SC:
I guess it is a kind of therapy. I get so angry with the human race over a lot of things. That stuff clearly spills out in the lyrics. I've heard from a lot of people that it's refreshing to read lyrics that are actually well-written and truthful. I put a lot of work into the lyrics and vocal melodies, to make sure it has interesting rhyme patterns and so forth. It means a lot to get that kind of response.
RZ:
Can you tell us about the lyric in "Prepare For War", let's take for an example these lines:
"As the midnight hour closes in, the fire win – there's no way to return Shells and shrapnel flying through the air from nowhere – it's time for us to burn"
It's very, very dark! Are Impalers a bunch of pessimistic guys, about how the world is turning, or is it merely written in order to create a exiting and dramatic lyric? When you watch the terror in Paris or shooting or bombing of innocent people elsewhere, does it in some way stimulate your artistic and creative talents? Do you feel compelled to react against it in a creative way?
SC:
"Prepare For War" is about a man seeing the hatred and violence around him, shaking his head in disbelief, refusing to take part in the evil he sees. As the song goes on he reflects upon how we slowly destroyed everything for ourselves, and then at the end of the song mankind have reached the point of no return, and the only thing he can do now is await the inevitable. 
The dark lyrics are merely a reflection of the violence that surrounds us. It frustrates me, all this evil. But like Tom Angelripper said in "Get Thrashed": "You cannot change anything, but you can scream it out." So no, I wouldn't say we're pessimists, I just like to sing about issues that are real, instead of only singing about Satan, or whatever. Even though that can be fun sometimes too (we usually reserve a song or two per album to more ridiculous subjects).
RZ:
Impalers are known for maintaining good contact to your audience, and communicating with them on the social media. How do you see your own role and involvement in terms of marketing, and promoting your material?
SC: 
We have a rule of a couple of updates a week on Facebook. We have noticed that if we go below this number, the actual interaction on our updates lowers considerably, which are bad for the really important updates as well as band-fan connectivity. It's also important to be very active with your promotional stuff and have a finger in everything in that regard to ensure the quality is the way you want.
RZ:
We saw you at Kraftwerket in Valby some years ago, where you did a great gig, and gave your worn out computer to the masses – and people literally threw themselves over it. How do you create such excitement in the audience?
SC:
Haha, that was a fun moment. It was last year. That thing got absolutely destroyed. Blood was literally on the stage. Awesome. We try to do different stuff when we play live, so it's not just us playing 8 songs and then leave. We have an awesome intro music that get people (and us!) pumped, we almost always do a cover song, Thomas usually have a solo spot, and we really try to connect with the audience while we play.
RZ:
Your concept is so solid, it is hard to imagine you doing laundry and doing dishes. What do you guys do, when you are not doing your Impalers thing? What about income-stability, do you have other jobs?
SC:
If you play heavy metal, and truly want to get out there, say goodbye to economic stability and disposable income. We get by, but it's not by much. I work as a substitute teacher and I teach music and fitness at a youth center. Thomas (guitar) work as a bartender. Kenneth (bass) paints houses and stuff. And Rasmus studies something or other, I have no idea. Astronomy, or something.
RZ:
That leads to the question, is it hard to be a 24/7 thrash band in Denmark/Europe these days? Is there glamour and glitter in the heavy part of the rock 'n' roll world?
SC:
It is very, very hard, because ends will NOT meet. When the good times roll (i.e. the great gigs) it's unbelievably awesome, but it can be very tough as well. Thrash is a small genre and there are plenty of bands looking to be heard.
RZ:
And now for the future; how far are you from releasing the new material, and what can we expect?
SC:
We are fairly far from releasing anything, but we have written a couple of songs. This past year we have released two CD's, made three music videos, and a lyric video. We don't want to saturate people either. But expect a new Impalers album and another EP next year. That's the plan, at least.
RZ:
Can you tell us something about your touring plans?
SC:
We're actually going on a small tour next week, with Lich King. We will do some stuff in Denmark next year as well, and hopefully more touring of Europe.
Du kan læse vores anmeldelse af Impalers nyeste album "God From The Machine" og EP'en "Prepare for War" her.
Derudover kan du nyde denne Impalers video: