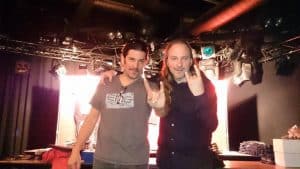 Det var en meget veloplagt og glad Frank Bello som mødte undertegnede til interview ved Pumpehuset inden koncerten den 11.7.2016. Kontaktperson Will var dog ikke sådan at bide skeer med. En lille dreng med et stort ego, og som gjorde det klart, at jeg kun havde 10 minutter. Frank Bello derimod gjorde det dog tydeligt over for både Will og jeg, at jeg havde den tid som jeg nu engang skulle bruge.
af Roy Frandix
Roy:
An evening with Anthrax – What was the decision behind doing some "An evening with" shows?  Is that what we can expect tonight?
Frank:
No, tonight we have a support band with us, but in Norway, we only played ourselves, which was very nice. You know it is festival season right now, so we do the festivals in the weekend and arena/club shows during the weekdays, and to be honest a lot of people have been asking us to do our own headline shows, which is good. So we get to do more shows and be able to play more songs from the new record, which is great. When we do play without any support bands we will normally play for 90 minutes.
Roy:
What can the fans expect of an Anthrax show today?
Frank:
Well, we do have the social media now where people ask for specific songs and we listen to that in some extent, because you want to make everybody happy along with us, so it is about finding the right balance. At the end of the night, everybody has had their hands up, and the reviews have been great.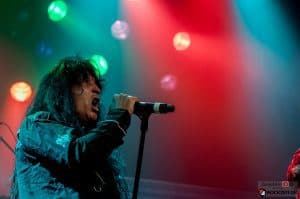 Roy:
"For All Kings" is your best album to date. What do you think of the album in retrospective now?
Frank:
I feel it is our strongest record. We have had a long history. To hear from you and thank you for the very kind words, that you think it is our greatest album to date means a lot to me and us as a band after being in a band for 35 years. You must understand how fulfilling that is to me and us as a band. Because with all the hard work we have put into this by making the record, editing the songs and with long periods away from our home, families and kids, it is just so fulfilling and it makes you want to go on and support this record. We have a great history with a lot of great songs and people are asking us to play more songs from the new record, which is really great. You cannot ask for more than that. So, right now Anthrax is in a really good place with writing songs and performing live. There is a big buzz on Anthrax right now, which we are so happy about.
Roy:
As a band you have achieved almost anything that most other band are urging to achieve. Do you have goals further ahead that you want to achieve?
Frank:
The thing is that when you write music, it fulfills you, and when you do not write, you kind of get an itch. I love my family and I love my kid, but if I am home for a certain amount of time without doing anything with music, I do get a need to write and perform. I need to be creative almost all the time, and I cannot imagine never doing this. This is my life. We have worked very hard to be where we are today. It is not easy to stay on tour so much, but it is what we have to do. This is the only way people can get a notice of Anthrax. Think about it, what other avenue do you have left.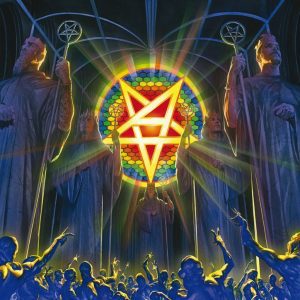 Roy:
You have experienced some tough things in life with your dad abandoning your family when you were 10 years old, and your younger brother getting murdered in 1996. I am sure that it must have been the music that kept you going. How are you raising and teaching your own son to live with all this baggage, as I can imagine that you have an urge to be a much better father that your own father, but still you are away for long periods of time? 
Frank:
You hit it on the head. I have another band with Dave Ellefson from Megadeth called Altitudes & Attitude and I have written a couple of songs lyrically about that and especially a song called "Out here" is very much right at your face, and I do miss my son every day, and I think of him every time I sing this song.
Today we have this computer technology, so I can see and talk to my son every day. It makes it a little bit easier, but nothing is like being at home. But look, this is the living we have been choosing and the occupation that we went in to, and we knew what that included.
Roy:
You did join Helmet for a short period in 2004, but besides that you have always been in Anthrax. Have you never been tempted to join another band, while maybe still being in Anthrax?
Frank:
Oh year. I do not want to pad myself on my back, but I have had some conversations with some bands through the years, but I cannot tell you who they are, haha. I am a loyalist to a fault. I believe in my band. I love my band, but I can still do outside projects like with Altitudes & Attitudes, where I am singing and writing which I love doing. In Altitudes & Attitudes there is an easy vibe between me and Dave, and of course Anthrax and Megadeth is our daily jobs, so we use our time off to work on our side project.  But it is still about writing good songs.
Roy:
You have been fortunate to have success with Anthrax and earn a good living, but there are so many bands out there that will not achieve the same and maybe have nothing to fall back on when they realize that? If you were 20 years old again and should start all over, would you have done anything different, and what do you tell your own son?
Frank:
Well it is all about making a difference and sounding different, because, without any disrespect for other bands, many bands do not stick out, and it is all about writing some really good songs and at the same time sounding different from other bands, if you want to be a successful band. A band should not try to sound like any other band. It should sound like you as a specific band.
Roy:
I have experienced many people and bands who try so much that they decide to skip college and ends up living in their studio when the have hit their 30's when life finally catches up on you and having nothing to fall back on. What would you tell the kids today?
Frank:
Look, I have a 10-year old son, and this is what I am going to tell him. If you love music, that is great, but education is first priority. When I was 17 I graduated High School with honors and I was on my way to college, when Anthrax called. It was either college or Anthrax. It was a hard decision but I had a feeling and I think that I have a great work ethic. I have to work hard, and my family has always had a great work ethic. You got to do what you love. But in this world today you need education. I always tell the young kids and my own son that education is key and music can be on the side, and if the music turns out to be successful then go for it. Any start is very difficult. When we first started, on our very first tour we had to share a grey hound bus with 3 other bands and there was no toilet or whatsoever etc. We have slept on floors and couches. It is all about believing in what you're doing. It is a hard balance man, but if you can feel it in your gut, you should try, but education is key.