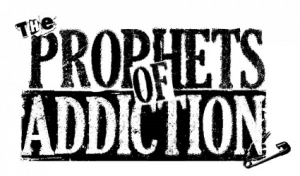 Amerikanske Prophets of Addiction beskriver sig selv som en form for Rock/Glam/Punk band, anmeldere og pladeselskaber kalder dem dybt autentiske mens de dog i samme moment trækker en lige linje ned til de mest navnkundige hairmetalbands fra 80'erne. Dette til trods er de dog et 2010'er band, der udgav deres første album "Babylon Boulevards" i 2011, og denne anmelder og til en vis grad deres frontmand Lesli Sanders oplever snarere et fællesskab med helt andre kunstnere.
"some people will think it is the greatest thing they have ever heard some people will think it is the biggest piece of shit and that is obvious in the reviews I read"   – Lesly Sanders.
I forbindelse med udgivelsen af Prophets of Addictions nyeste album "Reunite the Sinners", fra april 2016 var RockZeit så heldige at få lov til at veksle et par ord med bandets absolutte drivkraft, sangskriver, bassist og sanger Lesli Sanders. Sanders er ven med C.C. DeVille fra Poison, han har spillet med blandt andre Marky Ramone og Phil Lewis (La Guns), og har i den grad gået den slagne rock'n'roll vej med alkohol, stofmisbrug – og afvænning. På den anden side af dette fandt han sit musikalske ståsted med Prophets of Addiction. Nedenfor giver han sine ærlige "Jeg-gør-bare-hvad-jeg-gør" meninger til kende om blandt andet sin egen rolle som erfaren rockmusiker, hvordan Prophets of Addiction skaber deres musik og hvilke genrer og kunstnere der inspirerer ham som sangskriver.
RockZeit:
Can you elaborate on the album title, who are we talking about, yourself or is there a comment to all those old rock bands, who seems to reunite all the time – take G'N'R as an example?
LS:
All people are sinners, no matter how minor that may be, it is just a clever reference to reuniting all people and doing it under the guise of Rock N Roll.
R:
How do you feel about your new album? Did you manage to get your ideas and dreams across?
LS:
As a writer I will always feel I could of done better, it is not up to me to decide, some people will think it is the greatest thing they have ever heard some people will think it is the biggest piece of shit and that is obvious in the reviews I read. I just did what felt right at the time. So basically capturing the moment and I am already working on songs for the next release for Prophets Of Addiction as well as my next solo release.
R:
How do you compose an album? Do you think of it as a whole or 10 potential hits? Do you think in a vinyl structure, you know, A & B side or maybe more as a long stretch?
LS:
I dont dont really think about it at all, its just what I have done since I was a teenager, I work on songs and would never concentrate on a "hit" a hit is not written, a hit is what the "machine" decides is a hit and pushes or forces onto the people.
R:
How much do you think about putting together an album with dynamic and variety in the songs style?
LS:
Once again I do not think about any of that, I write, the band jams the songs and we record. I do hope people like it and if they dont thats how it goes.
I (Lesli) usuallly come of with the music and lyrics, I do never write lyrics, they just come to me and I go with them, I push record and that's how they come out. As far as music, generally I have an idea and the guys come in and play what they feel is right. Usually that's all good, unless there is a specific part I have in mind that fits what I am trying to accomplish musically or to set a certain mood.
R:
It's been a little while since Babylon from 2011, how do you as a band keep the engines running, when you are not touring and composing? How do you "refuel" you creativity?
LS:
I am always working on stuff, when the band is not performing, I am touring and doing solo acoustic shows. I do also handle the business side of things so I am always consumed with that as well.
R:
There is a lot of great guitar riffs on the album, and off cause, many elements from the so called Sunset Strip periode. But I personally liked the way you, imo, brought some Heartland/Americana spirit and songstructures to the table in many of the songs. Did you try to distance yourself a little from "Babylon Boulevard" as an attempt to reinvent your sound?
LS:
As I have mentioned I just do what I do, I have so many songs I have written of all styles over the years, people usually only hear what comes out in the bands I play in.
R:
Can You tell about the last song, one of my favorites, and of those, that reminds me of types, like John Mellemcamp and maybe Tom Petty – I actually mean that as a compliment – What is it about? It sounds quite fragile, personal and spiritual?
LS:
That last song" Exist" was a magical time, I grabbed a guitar sang it with those words first take at my house and thats how it went down. Made up the words and original guitar part in a few minutes. Then went to the studio to record it properly with the strings and extra stuff at the end. I felt this was a song that needed no drums. It said all it needed to say.
I dont adapt, I just do what I do and it is all I do, I don't make much money, I just survive, but each day I play music and I love that.
R:
Talking about spirituality, although I liked "BB", I regard "Reunite" as a more mature and emotionally deep record, and actually not very, lets say, Motley Crue. Is it the mileage bearing through?
LS:
Well I have always been more into "Punk" and bands like Soul Asylum, Tom Petty, etc so I would say that's just how this one turned out. That's not to say the next one is not gonna totally rock, I think it's gonna be the heaviest yet.
R:
In some of the press material, guitarist Brandon Barger is listed, but on your website and Facebook he's removed as a member – what is that about?
LS: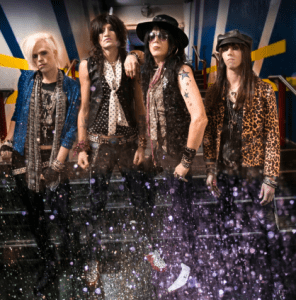 He is out of the band, it was a bad situation, where he left us after telling us he was in. Since then we have been scrambling to find a replacement. He did not play on the recording however, or ever play a single show, guess he thought it would be cool to do a photo shoot then bail, after he was pictured in the CD artwork.
R:
Lesli, you've been around for a while in this business and these last 20 years has turned a lot of things up and down. How do you as an experienced artist adapt to all that streaming, and the media focus on appearance and how you act as a (reality) star, instead of as a musician? Have you changed too, and in what way?
LS:
I don't adapt, I just do what I do and it is all I do, I don't make much money, I just survive, but each day I play music and I love that. I really appreciate all of the people that have supported my art over the years. And hope people will continue to do so.
R:
Is it still "fun" being a rock musician, can you relate to the lifestyle from the heydays of the "hairmetal"? Some of the most scandalous stories, seem a no go, these days. Is it just long gone history?
LS:
I am not sure anymore HAHA, I just do what I love to do, maybe it is a true love and that is not always a fun situation, but I do not know any other way.
R:
Have you plans for an European tour?
LS:
YES, we are trying to get to Europe and Japan this year, and are in the process to make it happen.
R:
And the last "trival" question; In the press material, many well known acts from the 80's are mentioned as reference, but if you should come up with a top 3 of your favorite albums from other artist, what would it be? What got you started?
LS:
I cannot really answer that as I really do not know or remember. But it sure does feel great to be appreciated for doing what comes from my heart. PEACE