Øvning, kompositionsproces og inspiration
Her på Rockzeit har vi for nyligt introduceret Next To None med deres debutalbum "A Light In The Dark". De meget unge amerikanere har komponeret et værdigt album i den progressive metalgenre, og er ifølge dem selv parate til at fortsætte deres karriere så længe som muligt.
Starter man en professionel karriere som teenager i den progressive metal, skal man allerede på et tidligt tidspunkt have opbygget et arsenal af riffs, have solid kompositionstæft og have tricks som sidder på rygraden. Her er det så en stor fordel at have startet som barn med at spille musik, og det kan man roligt sige at Next To None har; Max Portnoy begyndte at spille trommer da han var 5 år, og øvede seriøst fra han var 8 år. Guitaristen Ryland Holland begyndte at spille klaver da han var 5 år, og få år efter kom guitaren mere og mere ind i hans liv. Bassisten Kris Rank startede med at spille guitar i femte klasse, hvor han hurtigt skiftede til bas som primært instrument. Sanger og keyboardspiller Thomas Cuce begyndte at spille klaver da han var 5 år, hvor han senere også begyndte at lære at spille både guitar og bas.
Liveoptagelsen af eksempelvis nummeret "Control" vidner om et band der kan levere varen live, allerede i en ung alder, og deres seriøsitet kan helt sikkert bringe dem langt ind i musikkens verden med en god skare af fans, hvis de kan bevare deres aktuelle drive og dedikation. I kølvandet på vores anmeldelse, fik vi mulighed for at stille trommelageren Max Portnoy nogle spørgsmål:
How is it to be so obviously talented and young and at the beginning at the career? Is it a struggle or pure fun, and sorry to ask, do you feel that the name Portnoy has opened a few doors?
Max: The name Portnoy obviously got people to listen to us, but it did not guarantee a fan-base or anything like that. We had be able to produce great music so that the people interested in hearing our band stick around. My dream was always to tour and be successful as soon as I could, so to be able to get this much love and support from all the fans is truly amazing. The band loves it, we never get stressed or think its too much to handle because we all love it and were meant to be doing this with our lives.
How many hours a week do you guys practice together in the band In order to reach this level of musical talent?
Max: As a band, we usually practice three times a week for about two hours each practice. We also practice by our selves in between and some of us get private lessons. Ryland and I go to a performing arts school so we get to practice our instrument for half the school day every day!
Mange nye bands i den progressive metal er inspireret af Dream Theater, og det er med navnligt Max' fædrene ophav in mente ikke overraskende at Next To None er inspireret af det legendariske band. De fleste numre på "A Light in the Dark" har et godt bundniveau, genren er overvejende melodiøs progressiv metal, hvilket til dels må skyldes både inspiration fra Dream Theater og også farmand Mike Portnoys rolle som producer af "A Light in the Dark". På Dream Theaters album "Systematic Chaos", improviserer de sig eksempelvis frem til albummet i studiet. Dette er kun meget erfarende og (økonomisk)privilegerede musikere der kan gøre dette. Ifølge Max Portnoy opstår deres sange på flere forskellige måder:
How do you compose the songs? Is it a writing process, or do you improvise? Does it involve computers?
Max: Its actually both. Sometimes we jam together and improvise to get some ideas, and sometimes someone will come in with an idea and we all work off of it. Some songs we wrote we actually recorded little demos on protools to practice to.
Does the band have one or more favorite bands that inspires for composing the tracks?
Max: As a band we all love Dream Theater but for the most part were all inspired by different groups and I think that really helps us get our own sound since everyone gets inspired from different sounds and styles. Some bands that inspire me are Slipknot, Metallica, Lamb Of God, and Pantera, where as I think Thomas gets inspired from bands like A Skylit Drive and Attack Attack. Kris also loves Slipknot, but hes also inspired by Korn and Mudvayne, and I think Ryland is a big fan of bands like Alter Bridge and Shinedown.
In which ways do you get inspired to compose? When you play live, or elsewhere?
Max: Mostly by listening to other peoples creations and other bands music. Say there a part of a song that sounds really cool and catches my attention it usually pushes me to want to go and write my own music and try to create something that catches other peoples attention.
Regarding the lyrics, what inspires you? Do you write them after the music is done?
Max: Thomas wrote the melodies and the lyrics for this album, but we always write the music first and the vocals come second. Its not that we think vocals are less important or anything because they are equally as important, its just the way we write and we feel comfortable writing riffs and music before vocal stuff.
Fremtiden for Next To None – rock og metal
I want to tour and promote Next To None as much as I possibly can until we are successful in our own thoughts. – Max Portnoy
Alle unge bands skal naturligvis have en uudtømmelig og måske lidt urealistisk tiltro til sig selv og kvaliteten af egne sange, for at have en chance I det store spil. Samtidig med de store ambitioner, skal man også være opmærksom på de små skridt hen ad vejen, så man ikke snubler. Det er dog aldrig ulovligt at drømme stort, og spørgsmålet er om Next To None har gjort sig af overvejelser om, hvor langt de vil og kan nå, og hvordan de følger med i forhold til, hvad der i øvrigt sker på metalscenen.
Do you listen to other newcomers, and how do see the rock/metal scene of today?
Max: We play local clubs and venues around our area constantly and we get see tons and tons of other upcoming bands that are so great and talented as well. I think we definitely aren't the talented young musicians and I think people should totally go and support local bands in your area because you never know how good a band is until you see them live.
Do you think the scene of rock/metal is in a good shape, or do you miss something or someone out there – a new direction?
Max: There are tons of musician who passed away that everybody and myself miss, but that's something we cant prevent. I think rock and metal isn't as big as it used to be, but I do think that its slowly making a comeback and within a couple years it's going to be on the top again.
Do you have any plans for a European Tour?
Max: We hope that the album does good in other places like Europe so that we can tour there. We love to travel and we really want to be able to play in places other then the U.S (nothing against U.S.A). But that all depends on how well the album does there, so if you live in Europe and want Next To None over there, SHARE US WITH EVERYONE YOU KNOW!!! :D
What is your next goal? And In that perspective, how do see yourself in the future?
Max: I want to tour and promote Next To None as much as I possibly can until we are successful in our own thoughts. We are going to keep touring and writing new albums for as long as we live, and we will never give up. Hopefully this album does well and we have to opportunity to tour with other great bands around America and Europe. You can expect many many many more albums from Next To None!
Max: Thanks for having this interview with me – Max Portnoy :)
Vi takker også. Ikke mindst for Portnoy den unges imødekommenhed men også for Next To Nones store armbevægelser trods det faktum at de træder i nogle store fodspor.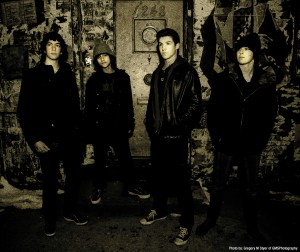 Den unge mand har en pointe; der er unægteligt mange bands, og man kan ikke høre dem alle. Nu er det selvfølgelig heller ikke alle bands som er lige unikke, og derfor er tabet måske ofte til at overse. Dem som virkelig vil klare den, må til gengæld satse hele biksen, i starten trække det meste af slæbet selv; øve, købe gear selv, producere en næsten perfekt demo selv, vise sit værd live og håbe at de kan overbevise et pladeselskab, som tit er notorisk angst for at tabe penge på en fejlinvestering. Alle må man bruge de fordele man nu engang har og i dette tilfælde er Portnoy den ældre med til at skabe et kærkomment fundament. Men herfra er det så op til Next To None selv at forvalte deres udgangspunkt bedst muligt, og derfra er der som Max udtrykker det ingen garanti. Med deres realitetssans, øvedisciplin og åbenlyse musikalske kvaliteter, er det Rockzeits vurdering, at Next To None har alle de rette kort på hånden, og det bliver spændende at følge dem fremover – noget siger os, det kan blive begyndelsen på et langt venskab.
(interviewet foregik på engelsk og for at bevare autenticiteten af besvarelsen, præsenterer vi Max Portnoys uredigerede svar på originalsproget)