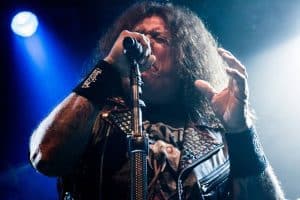 I forbindelse med Testaments koncert i Amager Bio den 6.8.2017 fik Rockzeit sig et eksklusivt interview med frontmand Chuck Billy, hvor snakken kom omkring deres nu 34 år lange karriere med op- og nedture, det at have gudsbenådede musikere i bandet gennem årene, og hvordan Chuck fortsat går meget op i sin Native American baggrund.
Rockzeit: You formed the band back in 1983 and you joined the band in 1985, so it has been a long career over 34 years with all kinds of ups and downs – What have been the high points and low points of your career so far?
Chuck Billy: Of course the start of our career was the high point. Being on a six record contract with Atlantic Records was a very big deal back then and the first four years we put a record out every year which was a lot of hard work. It was probably the high point as we wrote a lot of music really fast and started creating success pretty quick. Then the 1990s happened and we made the last record (The Ritual) with Alex (Skolnick) before he left the band and at that point it was where Nirvana and Pearl Jam and all the grunge thing kind of took over so… There was hope for heavy metal at that point because MTV and the radio was playing heavy metal during traffic driving time, but as soon as that Seattle sound hit, the metal just kind of took the backseat and was gone, you know. Those were the low points because we also broke up as the original band and the music scene changed, but at that point it was that Eric (Peterson) and I decided to change our music to become a little heavier and just try to take it beyond what this original band intended. We also wanted to keep it heavy. Our last record in the original line up was a record full of compromises within the band as one another wanted a different sound to it so the album did not become a joint record.  That is why we all look at the record as kind of disappointing as we broke up after that and that it was our last record together.
Rockzeit: You are one of those few legendary heavy metal bands that somehow have kept an impressively high standard of studio albums even though you had a very difficult period, as any other band through the 1990s and beginning of the 2000s, and even when you changed over to a more death metal style with "Demonic" and "The Gathering".  How did you guys manage that?
Chuck Billy: We went harder during the period after "The Ritual", where we on the record "Low" tried more death metal vocals on the song "Dog Faced Gods" which was the first song where I sang death metal all the way through. A lot of fans said "That is cool" but some fans were also like "No! Do not do that!", so we cannot really please everybody, but I knew that I wanted it harder and heavier so we started tuning the guitars to match my voice even better. When Alex was in the band we tuned the guitars much higher so I had to sing much higher, so it got more comfortable for me once we moved forward at that point and our records got more heavy and harder. When we did the "Demonic" record with Gene coming into the band, those songs were a lot more heavy and I really tried to do a little more singing on it, but it just did not fell right, so that record became pretty aggressive. It was just the way that Gene and Eric wrote the songs and Gene was really just killing it.
Rockzeit: The albums "Demonic" and "The Gathering" have since their release become legendary for a lot of fans?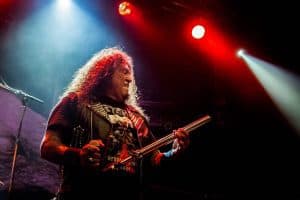 Chuck Billy: That was when the whole thing just kind of changed again, and after taking the break and having toured with the "Demonic" record, I kind of realized that I could not go on singing just death metal vocals all the time. So I wanted to get back to where I kind of was before with the same singing style and with Dave Lombardo on drums on "The Gathering" a lot of cool stuff began to happen as his playing style was like he could do anything like the black metal blast beast. That record kind of changed it for us and we kind of found the style that we wanted.
Rockzeit: It never seemed like you guys compromised on anything and just did what you as a band did to do?
Chuck Billy: Well, Eric loves his black metal and he listens to the bands that he loves. He is kind of inspired by what everyone is doing. Fortunately that helps us not to fall into what everyone else is doing.  That is probably why you can always hear that it is a Testament record.
Rockzeit: What is most impressive to me is that you here 34 years on just keep getting better and better with first "The Formation of Damnation" (2008), "Dark Roots of Earth" (2012) and "Brotherhood of the Snake (2016). I am having a difficult time to grasp that as you seem to always put some new cool twists to your albums?
Chuck Billy: I beat cancer and since then I have been much happier and my life has changed a lot since then. I do not care about the business part of it. I/we do not try to compete with other bands. That is kind of out the door. We write for ourselves and because we like playing our music. When we had the reunion back in 2005 it really brought back a lot of confidence in the band because we got the original guys back together and we felt like we did back in 1985 where we could really make some great music. We just did not care what anybody else thought of our music. I think that is what has kept Testament it its own pocket.
Rockzeit: The gift of having Dave Lombardo, Paul Bostaph and Gene Hoglan on drums over the last ten years must have been fantastic for the band. How much has the drumming style of these thrash masters meant to the composition process of Testament songs?
Chuck Billy: I mean if we did not have had all these great drummers in the band it would have held us back. But these drummers can just play anything so we were not forced to only being able to play just a certain kind of way. We could, and can, play anything we want.  Gene is so solid live and he drives the band in our live performances.
Rockzeit: Your voice is a very great part of the Testament trademark. You definitely have your own special sound in your voice and your own very recognizable melodic way of singing. In the composition progress, how much do you (and maybe the band) think about singing the lines in that 'Chuck' way in order not to deviate from that and to uphold your Testament sound?
Chuck Billy: I sing the songs in the way the music makes me feel. On our last record (Brotherhood of the Snake) I really wanted to stick to what I do. I wanted more melody and more hooks and great choruses. In the earlier stuff I maybe tried to find something that did not work and I was not comfortable. So now I realize that ok I want to go back and have some more melody and hooks but still be very aggressive so that is what we tried to do on Brotherhood… I think that when we will start writing our next record it will be even more aggressive but still with all the melody etc.  Who knows?
Rockzeit: Are you still, in a way, a bunch of young guys dying for playing thrash, or is it more of a job-and-colleagues-level now?
Chuck Billy: We are young at hearts and our minds think that we are still 20 years old, ha ha, but the body says no, ha ha. I think the music for us is keeping us all young at heart. I think that is what drives us.
Rockzeit: What do you think about the metal scene of today as opposed to back in the eighties?
Chuck Billy: Well we grew up being a part of that thrash metal bay area which was great. There are more and younger bands and even bands that have been around for 10-15 years that has influences from our earlier days. That is always a good feeling you know.
Rockzeit: Today it is very difficult to have a breakthrough for any band. How do you see that?
Chuck Billy: It is really tough, because there are no record sales anymore and you really have to work hard and what I have learned from working with Atlantic Records – a big company, a big machine and with a big marketing budget – you get noticed when you have people with a lot of money for promotion. Those are the bands that really have a chance for a break through. There are great bands on labels that just do not have the money and because of that it will take longer. The major labels do not sign metal bands so much anymore and now the smaller and independent labels are bigger than the major labels and have more heavy metal bands. Like Nuclear Blast.
Rockzeit: I am half American myself and I love America and my family, but I have difficulty in ignoring that the US were actually as bad as many of the worst dictators in the world when it comes to the cleansing of the Native Americans and the period with slavery etc. and it seems that it does not stand out that much in the American history books. It does not make me feel very proud. How do you see that?
Chuck Billy: It still does not today. There are still reservations in America. They are still separating people from society. I think that is shitty. Our reservation is very small and poor and they built a casino and started making money.  They did not get any help from the government or anybody else to do that, but now the government wants their taxes and suddenly they have their attention. It gives me a bad taste in my mouth. It is still a sad thing to see. Even when the big pipeline was going down and all the natives from all around the world was coming to North Dakota to support the Standing Rock there. I have friends that went there and they told me that they could just not believe how much hatred that some people have. They would be in Starbucks and Randy (Blythe) from Lamb of God would be there and he went to the bathroom while one of my other Native American friends went to the counter to buy something, and a white family in the bathroom was telling its kids that those guys are bad and just talking down to the Natives. Randy said that he would ignore it and be big about it and go outside where he just could not stand all that prejudice in that place. It is a shame to see people telling their children and give them that kind of picture of other people.
Rockzeit: Last but not least – In my daily work I often deal with some cancer patients etc. and see the effect on them after a successful treatment of chemo etc. and lots of them will experience an extreme form of tiredness for years to come which may become static. Looking back now, has you cancer illness had a static effect on your health in terms of working with Testament?
Chuck Billy: When I was ill with cancer I went to see some medicine men and I really went to my native roots to find spirituality and get through.
Rockzeit: Did it help?
Chuck Billy: I have some wild stories and I do not know if you have read any of the stories with the medicine men that I have seen. It will blow your mind. It blew my mind. It really opened up a lot of things for me. I was born Catholic and my mom was very religious. I do not know why I did it. I think it was because of my Native American background and that I thought that I might be dead in 6 months. It really helped me to get through that period in my life. I felt quite good and the chemo did not beat me up as much as I would have expected it to do and I am still doing well.
Today my fingers are numb and my toes are numb but there is not anything else on my health though. But since then I have taken better care of myself. I do not drink anymore and I do not smoke weed anymore. I think that has made my performance and voice even stronger throughout these years since my illness. I cannot do a lot with my voice but I feel very comfortable with what I can do.