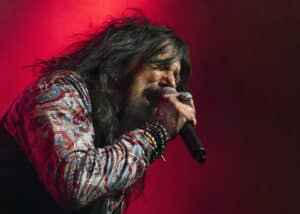 It's gonna be loud! It's gonna be rambunctious and it's gonna be fun! We are gonna give you 2 hours, where you can forget about your boss who yells at you all the time, your spouse, who is either not picking up his socks or yelling at you alle the time, you are gonna be able to forget about life for two hours, and have some fun.
Tirsdag d. 14. november gæster The Dead Daisies Pumpehuset på deres "Resurrected Tour". Bandet fejrer rockmusikken og deres eget virke i samme i 10 år! I den forbindelse har RockZeit sat frontmand John Corabi stævne til en snak om rock' n' roll og om hvad man kan forvente sig i Pumpehuset på tirsdag.
På en regnvåd, mørk dansk efterårsdag fik vi en teams forbindelse direkte til Johns hjem i Nashville, Tennessee hvor klokken blot var 10 om formiddagen og han netop havde afleveret sin truck på værkstedet efter nogen havde givet ham en "fender bender" og skredet. Men i absolut godt humør og med et friskskænket stort krus kaffe, fik vi os en lang snak om musik, opvækst, at blive vraget i en hård branche, at finde sig selv, danske vikingekvinder og ikke mindst The Dead Daisies.
RZ: Thank you so much for taking the time to sit down with me John
John: No worries – I'm ready!
RZ: I'm just going to shoot from the hip and see where it takes us, if that's ok?
John: Yup!
RZ: One of the reasons we are having this interview, is because you are going on tour with the Dead Daisies on the "Resurrected Tour" and you are going to visit Copenhagen on November 14.
John: I am looking forward to it! Today is Monday, I leave on Friday – I go to L.A. to meet up Doug, Michael and Brian and then we fly to Japan. We have 2 shows there, and then we fly to Europe and start our trip through Europe.
RZ: Have you been to Japan before with the Dead Daisies?
John: Yeah, we were there 3 times and I think the last time was in '18 – I don't think they went over with Glenn (Hughes)
RZ: So do they like rock n roll in Japan?
John: Our fans are awesome. The last time we were there we did 4 shows and they were all sold out. And from there we are looking forward to get to Europe and Scandinavia seeing a bunch of our friends there.
RZ: And we are looking forward to having you! And it's your 10 year anniversary tour, so congrats on that!
John: It's actually mind boggling to think that ten years have gone by that fast already. We have a new record out – it's a "Best of…" it's kind of a marker over the last ten years and we are making arrangements to get in a do a new record next year.
RZ: That's great! Now that you mentioned the "Best of.." album – which came out this year – as I understand, it is kind of a collection of the bands' own favorites over the past ten years. Can you single out one song from that album that kind of sums up The Dead Daisies for you.
"Stare in the mirror, lines on my face, yeah

I wonder where the time has gone It's been a long hard road out from the grave But I keep a moving on I been up, down, turned around Kicked hard to the ground Keep a coming back again

From the ashes, from the flame

I'm here to light the fire again

I'm back, resurrected"
John: Me personally, we obviously use it for multiple reasons, but I am really kind of partial the lyrics and the meaning of the song "Resurrected". I have always been between a rock and a hard place with everything that happens with me – you know, the whole Mötley Crue issue….. Once Mötley decided to bring back Vince, I think a lot of people and companies that were working with me…. it was like I had the plague – they wanted nothing to do with me anymore. I talk about this in my book also, my dad kind of put things into perspective for me. I was just turning 50, I was complaining to my dad – I hate to sound weird… but I was riping to my dad about all the years I had put into the music industry, but what did I have to show for it?? I was living with my girlfriend at the time, who is my wife now, I was living at her house. I had a car, but I was still making payments on it, so I didn't technically own it. And a lot of people had written me off. My dad kind of put things into perspective and he said "You know what – you have been married several times, you have always done your father duties also financially, took care of certain family members that got sick, and you did all that playing guitar. You need to stop looking at what you don't have, and look at what you do have." And that really changed my perspective. I realised, I don't need to have Nikki Sixx' bankaccount! I am doing well. Me and my wife, we own our home, I have some toys – like motorcycles and motorhome – my kids are great. Everybody is healthy! So "Resurrected" for me means: "I am still here – I ain't going away". So that song really in a nutshell is really how I feel!.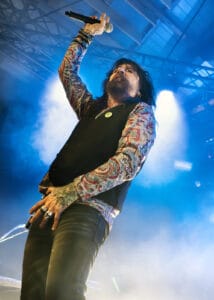 When your ship is coming in – don't be at the fucking airport!
RZ: Your father was a wise guy!
John: He was funny – he would say funny little things to me, like anecdotes. We have saying in America – could be global – when you think something is really going to be good, you say "My ship has finally come in", and my dad would always say "When your ship is coming in! Don't be at the fucking airport!" He had this quirky sense of humor and he was a wise man. In this little conversation he really put everything in to perspective. So when I wrote the lyrics to "Resurrected", I knew I wasn't going to please everybody. I still had fans that appreciate and admire what I do, I am still making music, still touring the world – Life is good!
RZ: Did you get some of your love for rock 'n' roll from your father?
John: Oh God no! My dad hated rock 'n' roll. When I was a kid growing up – I'm 64 now, so I'm talking late 60's early 70's. My dad hated bellbuttons, sandals he was just like "Eww, hippies!" and obviously when I started showing him pictures of Deep Purple and David Bowie – when he saw David Bowie he was like "What the fuck is that?! – Is it a guy? is it a girl? Why is that chick called David". He didn't get it! But what I did find out when he passed away is that my dad, who had always been in the military – he had this giant locker and when I opened it, he had every single magazine I had ever been in. Little clippings and he saved them all. He was wise, he wasn't a fan of loud guitars and me standing on stage saying "Let me see your fucking hands". He always said he liked my acoustic stuff because he could hear what I was singing. He came to see me a bunch of times and he would say "The show was really good but you did say the F-word a lot", and I was like "It's part of the stick dad!".
RZ: But he supported you though and was proud of you saving all the clippings.
RZ: I wanted to talk to you about rock 'n' roll as more than a style of music. Like you mentioned that swearing is part of the stick. So is rock 'n' roll more a life style or a philosophy?
John: I don't like putting labels on things. What IS actually rock 'n' roll. If we talk about one of the greatest rock 'n' roll bands ever, The Rolling Stones, and you sit and go through their catalogue and listen to "I am just waiting on a friend" that's a country song, if you really want to put a label on it – "Dead Flowers" is another one that is a country song. So I am not a big fan on putting labels on music. BUT to me what rock 'n' roll stands for is: Defiance, I don't give a fuck-attitude… a rowdy, defiant, I dont give a fuck about anything attitude! Rock 'n' roll is rebellion! It is going against the grid, going against the norm. Some people may look at me and say "He is not very rock 'n' roll, he has never done any drugs" But there has been many other things that I have rebelled against. I am just as rock 'n' roll as the next guy!
RZ: But then you are actually going against the norm of drugs in rock 'n' roll and then that is in itself rock 'n' roll!
Rock 'n' roll is walking to your own beat whatever that is!
John: Rock 'n' roll is walking to your own beat whatever that is. Looking at Salvador Dali and Picasso, they were as rock 'n' roll as can get! So to me rock 'n' roll is not really about music it is more about walking through life to your own beat.
RZ: If I had asked you in the late 80's to define rock 'n' roll – would you have said the same thing?
John: I probably would have. I drove from Pennsylvania to L.A. to achieve a goal. I bought an old ambulance and converted it in to an old sleeper van and I partied – but I have always been more of a drinker. I have never been into drugs, I fucking hated them. And I was never a promiscuous person as far as women. I was married at fucking 20! Everybody was running around Sunset Boulevard having parties in spandex with crazy palm tree hair and doing drugs and drinking til sunrise. I went, did the gig and went home to my family. So I probably would have said the same. I admire the Steven Tylers and the Pablo Picassos that live on the edge. I admire them, but it was never my thing.
RZ: So you did actually always walk to your own beat!
John: I always have yes. Even in Mötley – I don't want to open this door too much. I remember when I joined, for two years the guys told me all this negative shit about Vince and his diamond studded Rolex and spending all his money on cars like Porsches and Ferraris. Excess Excess Excess. They complained about this but then the turned around in the end and I remember having this conversation with Tommy and he went "Dude, I don't get you! Why do you always buy trucks" I just like trucks. Pick-up trucks with big tyres and big stereos. So they actually ended complaining about me being the complete opposite  of what they were complaining about. I never changed. I am what I am. I don't make any apologies for it. If you don't like me go buy someone elses record!
RZ: I like your attitude John! So if someone claim rock 'n' roll is dead – have they misunderstood the concept to begin with?
John: No… I think what they mean is…. this is another large can that we are opening. Gene Simmons made that comment. I think he is looking at the glory days of the music industry when bands were developed by record labels they weren't expected to go out immediately and sell a million records. They had recording budgets that were 250.000 – 500.000 or a million dollars to go do recordings and music videos. There was radio – local radio stations that supported local bands in each city and what happened is that there is pretty much only one company that controls ALL radio stations in America and they them a play list and tell them to play these 20 songs and don't deviate from it. Magazines are gone! Music shows are gone. Music buyers – whether it's CD's og Vinyl – it's down for everybody. Unless you are Taylor Swift or U2. But for the most bands, they are not selling music like they used to, because of the contraption we are talking through, streaming and so on. And the same thing is happening in the movie industry and that is why SAG and the Actors Guild have gone on strike here in America – the payment scheme is bit convoluted. That is a massive weight on musicians and actors that used to get royalties. That part of the music industry is dead, so we have to figure out how to move forward from here. Even I sit here on a daily basis and wonder – I have zero idea how new bands with no name people in it make it. They go on tour and get no financial guarantee when they play their shows so they have to play for "door deals" and if there is only 20 people in the audience, how are they gonna sell merch? There is absolutely no outlet for new music. So when Gene Simmons said that he was talking about rock stars do not exist anymore.
RZ: So the industry has collapsed on it self?
John: The technology has advanced. When the big bands go out and do shows like Aerosmith and Kiss the shows are still sold out – so the audience – the fans – is still there, but there has been a disconnect to the industry. There are no magazines, no PR, no record sales. The people are still figuring out how things work now.
RZ: So when Dead Daisies go out on a tour called "Resurrected Tour" is that to resurrect live music of the connection to the audience.
John: All the Dead Daisies want to do is have some fun. We play music that we love and along the way we have taken old songs that we grew up listening to and redone them ourselves and put them on records to enlighten young people to bands like Creedence Clearwater Revival.
RZ: And now that you mention it – because I was going to ask you, the song "Fortunate Son" is on no less than three of the Dead Daisies albums.
John: It was such a fluke thing – a lot of people ask us why we do covers. If I can go back to some of the bands I grew up listening to, it wasn't that unusual to do covers. Like David Bowie did a couple of The Kinks songs like "Where have all the good times gone". The Rolling Stones, The Beatles, Led Zeppelin was notoriously doing cover songs. Elvis …… The Grand Funk Railroad, at their height they used to do "Gimme Shelter" in 1969 og '70, which was just around the same time that Rolling Stoned put it put. And they just thought – this is a great song, let's put it out. We have done a few songs like "Midnight Moses" for example is from a band called "The Sensational Alex Harvey Band". I still have people my age who write to me and "Dude, those are the weirdest lyrics I have ever heard, what were you thinking?" and I go "I didn't write it, it's a cover song!". We are actually tipping the hat and giving people introduction…..  We went over to our American troops in South Korea and we did 3 songs. While we were there our manager asked is theres any songs we could do that would remind the kids about back home. So we did "American Band" by Grand Funk Railroad, "Sweet Home Alabama" by Lynyrd Skynyrd and "Fortunate Song". Any where in the world – as soon as we start playing and going "It ain't me, it ain't me…." people sing along to that any where. So it has been on a couple of our live albums and on our "Make Some Noise" Album and it's a great song. There are still of the younger fans, they know The Stones, The Beatles, Led Zeppelin, but if you say Creedence Clearwater Revival or a band like Cactus or Alex Harvey Band, they go "Who?". So we are educating as well as having fun.
RZ: When did you realize that rock 'n' roll had claimed your soul? That this was the kind of music you were drawn to – the loud guitars. Do you remember the moment you just went "Wow! I wanna do that! The rest of my life"?
John: I saw The Beatles towards the end, I got in to them kind of late. Around the time The Beatles were announcing that they were splitting up, at the Ed Sullivan show in America, they did a Beatles retrospect, they showed the first time they were on and later on in their career, they did "Hey Jude" and then they showed the video for "Let it Be" and I thought that was really powerfull so I started playing the guitar. But then I entered to a Catholic elementary school and they used to do a talent show every year, and we put a band together a bunch of friends. We were doing 2 songs for our performance "House of the Rising Sun" by The Animals and "I'm Not your Steppin' Stone" by The Monkees and we won. And it was at that moment! The auditorium probably held 5-600 people, it was packed. Everybody was there to see their kid juggle or do their tap dance routine, but we ended up winning, we got a standing ovation at the end when they gave us the trophy and my dad took us out for pizza afterwards and I was like "Wow! this is fucking awesome" I was really addicted at that point to being the guy on stage everybody was staring at clapping for. That was it – I was done! It was a bit of a addiction. I tried to make money playing music as a 16 – 17 year old kid, and I did well for my self. I was learning to do the songs of Aerosmith, Rainbow, Sabbath all these different songs and reading magazines with articles and thinking what a lifestyle! Awesome! I wanna do that! I was addicted.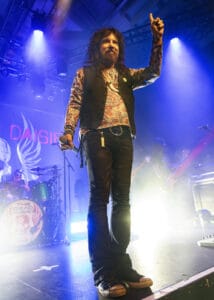 RZ: So you actually did get to live your dream for the rest of your life! So you actually are a fortunate son John.
I get to write music for the world and live that gypsy, vagabond dream and stand on stage for 2 hours every night with an awesome band and have a lot of people clap and enjoy what I am doing – I love it! I wouldn't trade it for anything!
John: Yes!!! I could sit here and ask "Why don't I have Steven Tylers bank account or Nikki Sixx'?" but at the end of the day I still get to write music for the world and live that gypsy, vagabond dream and stand on the stage 2 hours every night with an awesome band and have a lot of people clap and enjoy what I am doing. I love it – I wouldn't trade it for anything!
RZ: For this tour the Dead Daisies are being joined by Spike of the Quireboys – any thoughts on what Spike is bringing to the table?
…. We hope there is no bail money
John: I did some shows with Spike in December in England, I did an accoustic set and Spike kind of did the same thing, he did an accoustic set, but I don't know if he is bringing a guitar player. All I know is Spike is a character, he is the real deal. I think Spike goes to sleep in his suit and his scarf. I call him the last of the English pirates. He is a bad ass. He could sing the phone book – he has got his own thing, he walks to his own beat. I am sure we are going to have a great time with Spike on the road, he is a character. He is totally rock 'n' roll. And I hope that there is no bail money involved for this tour (laughing). But we just don't know.
RZ: Can you tell me a little bit about what kind of dynamic it creates when you are in a band that has a changing line-up over time. The Dead Daisies is a referred to as a "Super Band" it consists of already established musicians that have a long career and then a changing flow of musicians coming through.
John: Whenever you change an ingredient, it changes. I don't think it was ever an intentional thing. We all know Davids history – David Lowy – he has always been a musician, he has always written songs, we know that he is a very succesful business man, he never had the time to really pursue the music thing. He got to the point where he said, "We are very successful, I always wanted to do this music thing, so I am just going to do it" and initially he put the band together with a gentleman called Jon Stevens, who is a brilliant singer. They started talking and just wanted to put a killer kick-ass rock 'n' roll band together, so they got Richard Fortus (Thin Lizzy/Guns N' Roses) Dizzy Reed (Guns N' Roses), Marco Mendoza (Whitesnake/Thin Lizzy) Brian Tichy (Whitesnake /Foreigner) Jon Stevens and David, they do their thing, they go out on tour and David has always known that guys like Richard and Dizzy were probably at some point going to go back to Guns N' Roses. The cool thing about it, is that everybody that has been involved in this thing were all friends, so he has left it light! I think he has always wanted a set line-up but he also realises that some may have to leave and go do stuff with their other band or whatever. Like Richard Fortus who went back to Guns N' Roses he suggested Doug Aldrich – Why don't you get Doug? – again, because we are all friends. When I left, I was in the band for 4 years and if I can be blunt, right before I joined The Dead Daisies, like two months before, I got married and once I did that first album with The Dead Daisies, it really started to take off and it got to the point where we would tour, tour, tour get back home, write an album and get back out touring. I started to feel that I had said to my wife "I do….. I'll see you in four years" and prior to that my son moved from Los Angeles to Nashville to be the drummer in my solo band, which I was in tour with when the Daisies called me and initially I thought I could make it work doing The Dead Daisies for 6 months and then doing my solo thing for 6 months, but the Daisies took off. I had my wife in one ear and my son in the other ear saying "You suck! I moved to Nashville to be in your fucking band and now I don't even see you". So I talked to David Lowy and David the manager and said I really appreciate everything that has been going on, but I really need to get off the carousel for a minute, catch my breath. And it has been amazing. Mind you, we had COVID, no one saw that coming. I started writing music for a solo album, I finished my book, I took classes on how to record myself on ProTools.
Everything is awesome, I have a beautiful wife, my kids are great, I have beautiful grand kids. Now I feel rested. When they told me Glen (Hughes) was going back to do his solo thing – would I like to come back, I said Yes! But David has always left it easy. Even if you look at that list of former members, I would say probably 80% of that list are guys that we used for just a couple of shows. Like Damon Johnson, who filled in when David Lowy had some business to attend to for like a week. The list is crazy. A lot of those people who fill in short term.
RZ: So there has been a stable core.
John: Right before we went to Australia in 2015, we did a run in Australia with Kiss and literally five days before we were supposed to leave for tour, Richard Fortus he had a motorcycle accident and couldn't go. He broke his collar bone and some ribs so we got a guitar player from an Australian band Baby Animals and we got Bernard Fowler, who was in Australia at the time, so we got both guys to fill in on just that tour to make it work, but they are on the list of members. What I am alluding to, is to say that a lot of those guys are fill in guys and friends of ours, we called in for an emergency. But David is content, we have always had a core band and now we are back.
RZ: What can the audience in Pumpehuset expect when they go to The Dead Daisies?
John: It's gonna be loud! It's gonna be rambunctious and it's gonna be fun! We are gonna give you 2 hours, where you can forget about your boss who yells at you all the time, your spouse, who is either not picking up his socks or yelling at you alle the time, you are gonna be able to forget about life for two hours, and have some fun. And to be honest with you, we can not fucking wait to get over there and just hang out with the crazy vikings in Denmark and Sweden. I married a Danish Viking girl whose last name is Sørensen. So I am partial to beautiful blonde viking girls!