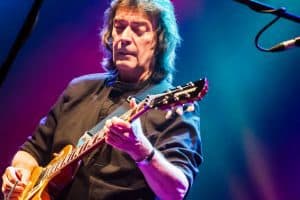 I kølvandet på den fantastiske koncert i Amager Bio med rock-legenden Steve Hackett, havde vi her på RockZeit, udover at overvære koncerten, mulighed for et interview med den store rock-nestor.
RZ: Congratulations with the amazing concert in Amager Bio the 5. of April, and also congratulations with your new album, again good reviews just two year since the last one. How do you stay productive, or should we say, how do you maintain the productiveness when you are also touring and perhaps not the youngest musician in the field?
Steve: I write on the road. Ideas come to me every day. I walk a lot the rhythm of that gives me inspiration.
RZ: There is an overweight of oriental music and other alternative genre on "The Night Siren". As a rock musician, was it difficult to compose music with less rock beats and riffs?
Steve: No, this isn't difficult. I'm at my happiest when I'm exploring the unfamiliar. Music is an on going adventure for me. I love to travel to the four corners of the earth both physically and musically.
RZ: The technical brilliance of progressive rock and metal, many will say, have come to a climax, and has no reason to be developed any further. What do you expect in the future in progressive rock? Do you think that the musician's technique on their instruments will be mandatory, and it will be the virtuosity of the technical orchestration and the studio mixing that will define progressive rock in the future?
Steve: I hope not! Technique is important, but personally I feel that passion and the drive to move forwards is the life blood of music.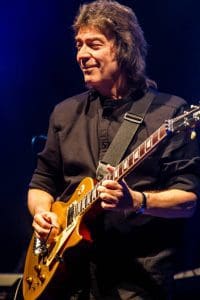 RZ: Ok, here comes an odd question; All you guys starting out in the sixties and seventies are all getting a little old, sorry, and unfortunately a lot of your peers are not around any longer. It must be a new territory for all you surviving senior rock musicians, the fact that rock is no longer synonymous with youth and anti establishment, many of you are considered high class art music – the establishment so to speak. Thanks to the likes of Bowie, Dylan and avant-garde bands like Floyd and of course Genesis, rock can be art, not just rock´n roll. Do you feel young at heart, like a senior rock star/legend or a bit of both?
Steve: Age is a state of mind. Physically I'm in better shape than I was in my thirties. I drink very little, I don't smoke and I exercise frequently. Regarding my status, I feel I've earned respect but I equally feel young because I'm constantly on the moving, searching for answers.
RZ: Since you have been so interested in integrating different types and styles for so long, do you at all feel a strong responsibility to the rock genre or have you dissolved musically in away? Is there any borders in your musical landscape? Are you a rock musician at all?
Steve: Yes I am a rock musician, but I'm also as flexible as water and I owe no allegiance to only one particular form.
RZ: In the face to face interview two years ago, you felt that "new classical composers have said goodbye to melody, and therefore have drowned themselves into a corner". The new album sounds almost like a symphonic modern work, but with the use of tonality and melody. Do you miss the old tonal and melodic works, and are you trying to be a modern composer that insists on keeping the tonal elements in the music?
Steve: I don't believe in labels. If music moves me, then I'll use it. I have no prejudice against atonal or melodic ideas. In fact I think they help to complement each other.
RZ: What is your favorite number from your new album?
Steve: Behind the Smoke. But I'm proud of all the tracks.
RZ: How long did it take for you to make that album?
Steve: Just over a year, between the tours.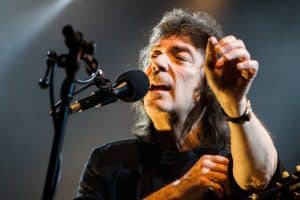 RZ: How do you feel about creating an elegant and beautiful album like "Wolflight" and touring for a period and then, on to the next one. Don't you feel that some of those songs should still be played at your concerts?
Steve: I have to choose carefully as there is a limited amount of time. I try to honour both past and present. I regularly revisit my own catalogue whilst playing the new (as well as Genesis numbers).
RZ: Is it a problem having such a large repertoire – to select so very few songs?
Steve: No, it gives more possibilities. I keep an ear to the ground and try to give fans what they want as well as playing personal favourites.
RZ: Knowing that only a fraction of all your songs will travel with you on tour, how do you keep investing your creativity in every song you make, including those less suited for the concerts?
Steve: The creative process is about more than concerts. Some songs are more difficult to recreate live, but that doesn't mean they are less alive in my heart.
RZ: Do you have an expiring date? Have you thought about that?
Steve: No, Dracula always rises from the grave with rosy cheeks…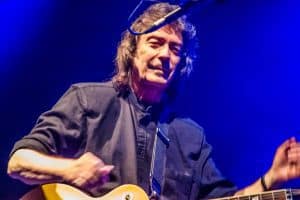 RZ: Thanks again here from RockZeit. We are looking forward to your next visit in Copenhagen.